Taman Meranti Jaya, Puchong a mixed development of 232 acres freehold development on former estate land is located at 16th mile, Jalan Puchong. It is easily accessible to highways such as Damansara-Puchong Highway, KL-Shah Alam Expressway, Puchong Highway, KL-Shah Alam Expressway, North-South Central Link and Putra Link.
2 1/2 Storey Super Link Houses (Phase 3A)
| | |
| --- | --- |
| • No. of Units | : 68 |
| • Launched Date | : March 2006 |
| • Completed with C.F.O. | : December 2007 |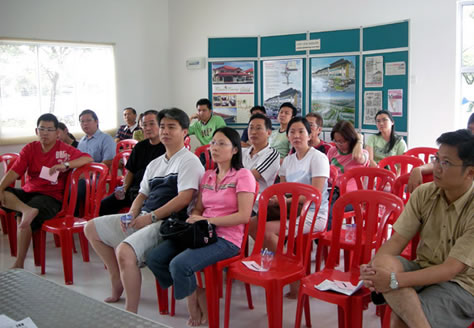 ESTABLISHMENT OF MANAGEMENT COMMITTEE OF TAMAN MERANTI JAYA - PHASE 3A
Management Committee ("MC") of Taman Meranti Jaya 3A was established on the 8th June 2008. Seven (7) committee members were elected by the majority of all the house owners in Phase 3A Taman Meranti Jaya to assume the responsibility of the management of the security guards and other facilities in accordance to the Deed of Mutual Covenants.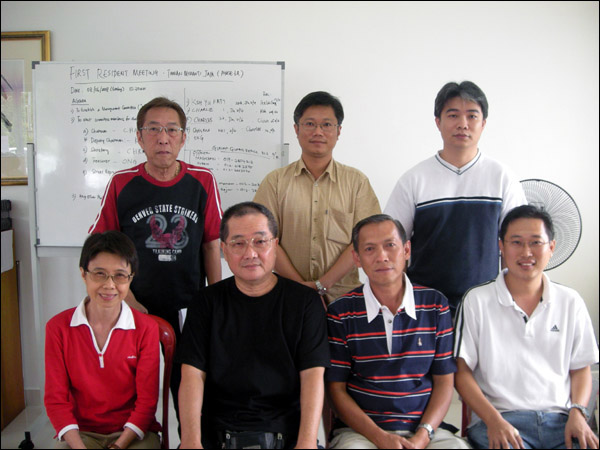 Management Committee Members
From left Sitting : Christine, Charlie, Mr Koh, Mr Ong
Standing : Mr Lee, Mr Ng, Mr Charles
The elected committee members were the following:
Name
Chairman Mr Ooi Cheow Wang (Mr Charlie)
Vice Chairman Mr Koh Yu Fatt
Secretary Ms Ling Gek Lang (Ms Christine)
Treasury Mr Ong Tuan Kong
Street Representative
Jalan Meranti Jaya 2/2 Mr Ng Say Heng
Jalan Meranti Jaya 2/4 Mr Lee Fou Yin
Jalan Meranti Jaya 2/6 Mr Ng Seet Wai (Mr Charles)
Tanming Management Sdn Bhd wishes to extend their heartiest congratulations to the committee members and wish them all the best in their undertakings.